Iron Pine Elite Prospect Day

September 29, 2019
Clinic Mission 
To provide an opportunity through education and competition, for elite players and interested prospects to grow as players and people.
Our goal with this event is to create a championship level environment and plant the seeds for growth. At the end of camp, we want you to have the chance to leave a little better than when you arrived. To take something away from camp, regardless of how much you are recruited. Simply getting a look is not the goal. Challenge yourself.
Interested Dartmouth Prospects 
This camp will be a great opportunity to see what being a Student-Athlete in the Dartmouth College Men's Lacrosse program is all about. You will use the same facilities, and have the opportunity to meet and work with current Dartmouth players and coaching staff. All this, while affording our staff the opportunity to learn more about you as a person and player within the highly competitive showcase format. 
Some Additional Camp Notes and Features
* We will do positional skill work.
* We will have interactive talks.
* Lunch will be provided.
The camp is open to everyone, however, it attracts some of the best Student-Athletes in the world.
SAMPLE SCHEDULE
Please note that this schedule is tentative. A final schedule will be posted at camp. Start and end times will very likely be the same as listed below.
Day 1
9:00-9:25 am: Check-In 
9:40 am-12:30 pm: Session I – Warm Up, Stick Work, Individual Work, Transition Work, Half Field 6v6
12:35 pm: Lunch (Lunch provided)
12:45 pm: Leadership Talk
1:35 pm-3:50 pm: Session II – Team Scrimmages (3 Games)
3:50 pm: Games End, Event Wrap-Up Talk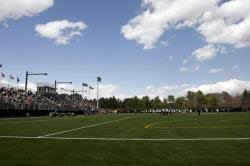 Dartmouth's Lacrosse only facility, Scully-Fahey Field
Iron Pine Elite Prospect Day
Ages: 2023 - 2021
September 29, 2019 | Hanover, New Hampshire
4 Summer Court
Hanover
,
New Hampshire
03755